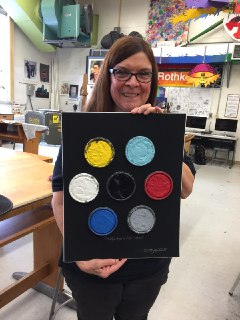 Nancy holding up a palette of her primary colors.
Our guest artist this year is Nancy Rourke. She grew up in Sunny San Diego. While growing up she always held an interest in artwork. She created artworks out of various items ranging from rocks to canvases and displayed them at art fairs, contests, and art galleries.

Nancy studied graphic design and painting at NTID and RIT. She completed her Master's in computer graphic design and painting.

She had her first showing at the National Gallery of Art in Washington D.C., in 1979! She was among a dozen Deaf artists who participated in the Heart, Eye, Hand exhibit at the Los Angeles-based Ankrum Gallery shortly after.
She worked as a graphic artist for 20 years. Her positions that she held included graphic designer for Xerox, creating color palettes to colorize classic black and white films for 20th Century Fox, designing Windows icons for Microsoft Corporation in the 1990s.

After her career unexpectedly ended, she returned to painting. It was at this time she painted everything in between portraits, landscapes, cityscapes, and still life.

In 2010, she became involved in the De'VIA art movement. She expresses political statements through her artwork, which is well-known widely.

Nancy joins us this year to share her experiences, skills, and knowledge. She will be participating in workshops/events across the state of Maine. These events include teaching Preschoolers all the way up to 12th-grade students at GBSD, teaching Portland High School hearing students, delivering presentations, and gracing us with her presence at Deaf Tea and other local events!

Please join us in giving her a warm welcome!